EVO CAM II
Capable. Powerful. Adaptable.

EVO Cam II is a powerful, versatile, yet easy-to-use, high definition digital microscope. Flexible configuration options deliver excellent image quality and optical magnification up to 725x; digital zoom takes you even further. A wide range of precision objectives and wide-field lenses let you choose a configuration that's an exact match for your unique and individual needs. It's everything that you would expect from a Vision Engineering microscope.
Consistency and versatility
Consistent quality inspections across multiple units, multiple users and multiple sites, is easily achievable through a range of tools and by sharing of settings between units. Even in a constantly changing business environment, EVO Cam II adapts to new roles with push button simplicity, delivering capabilities and predictable results whatever the task.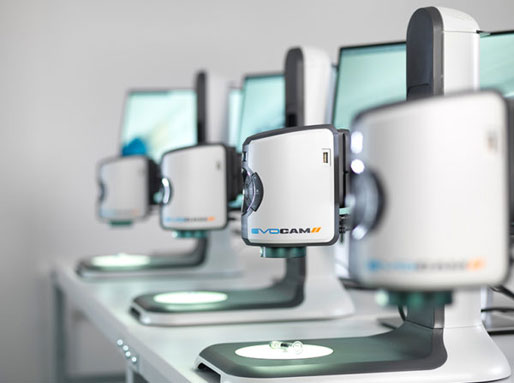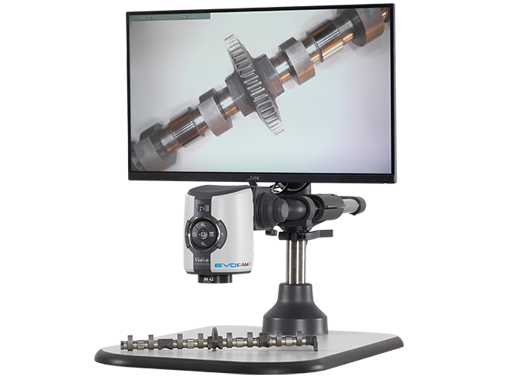 Exceptional images
A 30:1 optical zoom range, delivering optical magnification up to 725x, lets you see the detail you need to really understand the subject. Use the digital zoom to increase this to an impressive 9000x maximum magnification. Full HD video brings out every detail, and manual and automatic focusing gives you ultra-sharp images every time. Even large subjects which would defeat lesser microscopes are brought into complete top-to-bottom focus thanks to EVO Cam II's focus stacking capability.
0.8 – 750x Magnification
Large Field of View
PC Control option

Maximum convenience
EVO Cam II is built for convenience. A large field of view and long working distance. For example, a large field of view and long working distance lets you examine a wide range of subjects. Ten pre-sets make it easy to share between users across different applications, and a supervisor-setting lock lets you stay in control.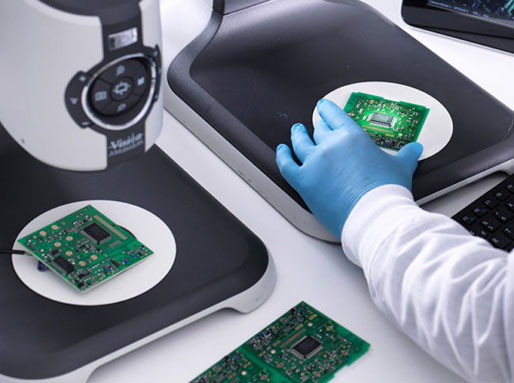 Precise, referencing measurements
EVO Cam II measures complex parts efficiently and quickly using overlays or point-to-point measurement. The overview function enables quick and convenient sample orientation, while overlays and the image comparison feature enable easy comparison with reference marks or sample images. Calibrations, which can be saved in pre-sets, can be tracked through the zoom range, speeding measurement of different size details and removing the need to recalibrate.
Easy image capture
Capture high resolution images at the touch of a button either direct to a USB memory stick, via wireless or direct to a PC. Simple capture and share options aid collaboration, reporting and training.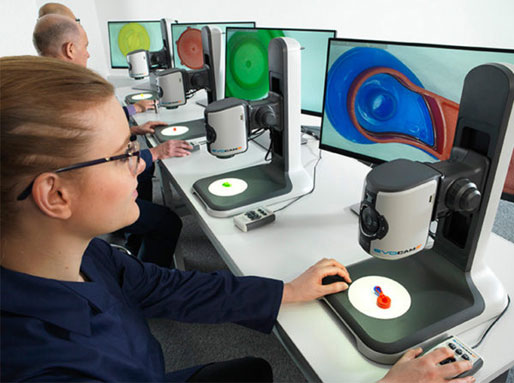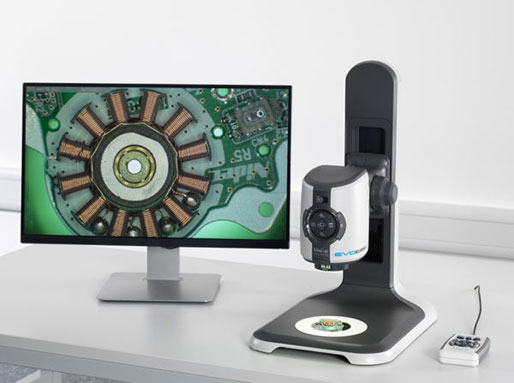 Simple and Intuitive
Out of the box, EVO Cam II can be set-up in minutes. Then simply turn the camera on and begin viewing and capturing full HD images. EVO Cam II's intuitive on-screen controls and multiple language options means that it can be used with minimal operator training.
A customised solution
Personalise EVO Cam II to your exact requirement by selecting from a comprehensive range of options. A 360˚ rotating viewer for looking around the subject, focus stacking for bringing tall subjects into uniform focus, a UV ring light, sub-stage illumination and a range of filters all help you inspect a wider range of subjects. Add a floating stage for even greater precision and control, and choose from a wide range of stands to make EVO Cam II perfect for your application.